Description
Shipping & Handling
Frequently Asked Questions
Shiny White Kindergarten Graduation Collar
• White Shiny Tricot Fabric
• Sleek, non see-through shiny finish
• Helps make your graduation gown looks better
• Each Shiny White Kindergarten Graduation Collar is individually packaged in its own bag
Order Processing Timeframe
All Orders for "Stock Products" will ship out within 1-4 Business Days. We offer Rush Processing (1 business day) option which expedite your order handling and overall delivery time. Please contact us as soon possible so we can arrange the shipping. Additional fees may apply.
Shipping Options
STANDARD – 5 - 8 Business Days
EXPEDITE – 3 - 4 Business Days
Out of Stock & Delayed Orders
If any item(s) become out of stock after an order is placed, one of our customer service representatives will contact you via telephone or email and inform of available options in an effort to remedy any issues. We will ask whether you would like to proceed with your order or make changes to your order. Product substitutions are available upon request. Out of stock items will typically be placed on Back Order and extended processing times may apply.
Important Information
The Estimated Delivery Date provided at checkout is an estimate only and does not guarantee delivery by a specific date or time. As this is an estimate only GradKids.com cannot refund shipping charges for shipments arriving past the estimated delivery date. We are not responsible for the delivery delay if the customer have chosen the wrong shipping method. We will do our best to make sure you receive your order on time. We advise you to give us a call if you need your order before a specific date and we will try to meet the date.
Domestic & International Shipping
To obtain a shipping rates please add your products to checkout to see shipping rates to your destination. We will ship to some foreign locations. Such locations generally include Canada, Europe, South America, Japan and a few other locations. You can check if your country is available by simulating placing an order on our website. We can also place the order over the phone if you do not find your country. However because such shipments often involve the peculiarities of the various tariffs trade and import/export laws around the globe we may not be able to ship some orders overseas due to the cost of researching the laws for that location. Also if possible it is always easier for us to ship to a US-based shipping address and you will always save on shipping costs if you can arrange for a US-based address to receive the shipment. At this time due to advice from our bank concerning trends in fraud we reserve all rights to deny or proceed with orders shipping internationally. * GradKids IS NOT RESPONSIBLE FOR ANY DUTY VAT TAX OR ANY OTHER FEES ASSOCIATED WITH IMPORTING OUR PRODUCTS. We cannot look up the final cost to you as your home country may (and often does) charge a fee at the destination. We also cannot accept a rejection of that fee after the shipment leaves our factory and we cannot offer a return for a refund. Your home country will demand that GradKids pay the fee before receiving the returned item and GradKids cannot pay that fee. If you order from overseas you must either pay any import fees and duties your home country charges or else abandon the item or receive no refund.
What Is The Material Of Your Gowns?
Our gowns are all made of 100% polyester. Purely made polyester, like our products, is extremely strong, extremely durable and has excellent properties such as being hydrophobic in nature that leads to quick-drying and stain resistance.
What Type Of Gowns Do You Offer?
We have variety of gowns to offer. Our in-stock gowns standard are shiny, matte, and environmental (recycled matte black fabric). We can also provide more prestigious gowns such as for Bachelor, Master, and Doctorate graduates, which we have several variations of each level.
How Do I Know What Color To Choose?
Please contact your graduation coordinator at your educational institution, as we currently do not have access to school colors.
What If My School Orders With A Different Company?
We welcome anyone to order with us! Although, we cannot give assurance or be held responsible for our gowns' colors matching another company's gowns. We provide unique shades of gowns are not the same with another vendor's products.
Are You Gowns See-Through?
No. But deep dark shades may slightly be seen through the shiny white gown.
SIZE CHART
Find the right size for your gown. See the instructions below.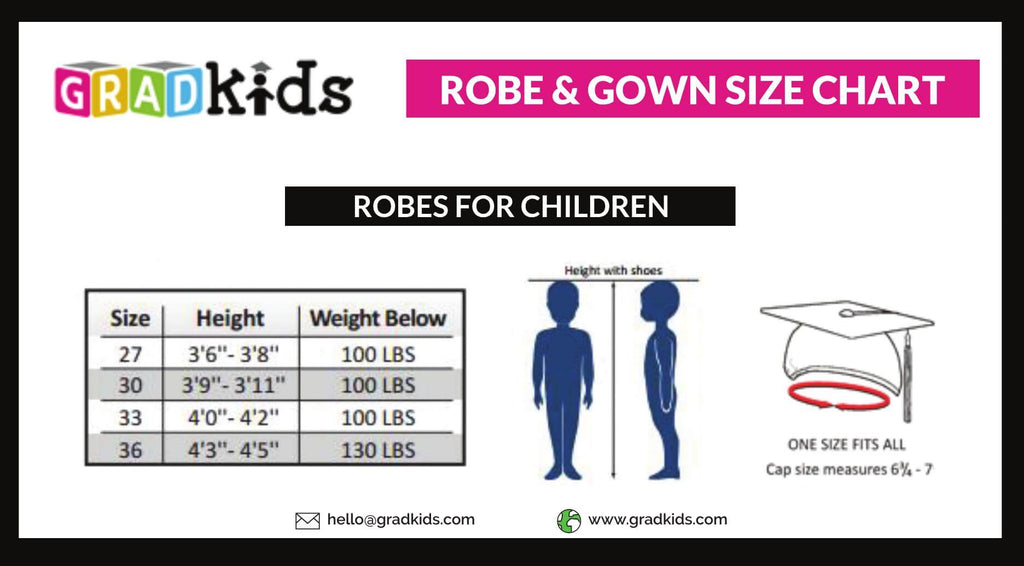 Choose from an array of colours and fabric that we offer.